Company Profile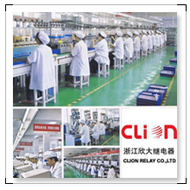 Clion Electric Co.,Ltd.
is one of the leading relay manufacturers in China. We provide a wide variety of electrical components, including power relays, solid state relays, PCB relays and automobile relays; surge protectors; relay sockets; solid state relay radiators; dual power automatic transfer switches; and other related products, such as: temperature controllers, time relays, counters, circuit breakers, etc.
Clion has obtained CCC, CE, UL and TUV certificates on our products and we have also passed ROHS testing. And our electronic switches/power switches are exported to the USA, India, Pakistan, Spain, Russia, Turkey, and many other parts of the world. If you need any of the products, please fell free to contact us.